Mazda Miata 1990 – Personal Full Wrap; Reviving the original look of your vehicle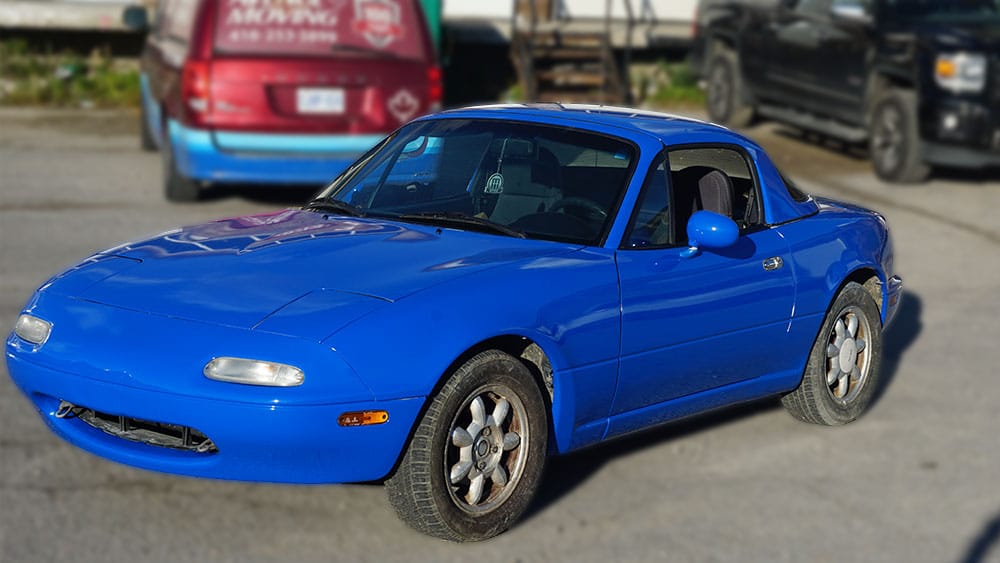 Mazda Miata 1990 – Full Wrap By Vinyl Wrap Toronto
Vinyl Wrap Toronto's recent customer's car was a bit of a father & son project. He brought to us his Mazda Miata 1990 and it was clear that it has gone through a lot of bodywork which rendered it looking completely different than the factory look. 
Due to the amount of work required, it left the car covered in primer. The Mazda Miata lost the original blue colour that it came in. The client was very specific about what he wanted. All he wanted to do was to revive his old looking car which had grown old with time back to the original factory look. 
Not only did he know what he wanted, but he also supplied his own material.
Our installers took the blue coloured vinyl that he brought and started wrapping the Mazda Miata. The best wrapping material is worth nothing if it isn't being installed by professionals. At Vinyl Wrap Toronto, we have certified installers who take their job seriously. We treat our client's vehicle with the utmost respect and care as if it's our own.
This was a personal full wrap job. The client had a reason to get the job done. Yours could be different. The following are some of the benefits of vinyl wraps:
It allows you to express yourself by giving your vehicle a unique touch of your own.

Vinyl Wraps protect the vehicle's original paint.

Vehicle wraps last for years with minimal maintenance.

Wraps protect the vehicle against UV rays, dust and road debris.

Vinyl Wraps are cost-effective as compared to other vehicle customization alternatives.
If you've got a vehicle that could use a bit of vinyl goodness, feel free to give us a call at +1(416) 746-1381 or visit our garage. We're located at 24 Ronson Dr, Unit 1, Etobicoke, M9W1B4. Our experts will be more than happy to answer any of your queries and give you a quote.
To see more pictures of wrapped vehicles like the Mazda Miata 1990, check out our blogs page.